Easter Scheme 6-9 years old / Monday 3rd April to Wednesday 5th April
Easter Scheme 10-13 years old / Monday 10th April to Wednesday 12th April
Fashion and Textile Museum Talks and Events
They sell out so book in advance if you are interested in attending
Fashion and Textile Museum Workshops
They sell out so book in advance if you are interested in attending
Edible Rotherhithe will build and sustain a new community garden and provide, food growing & carpentry workshops that improve well being.
Consultation opened 24 Feb 2017
and closes 28 Apr 2017
Saturday 13th May 2017
Southwark Park Gomm Road SE16 2EH
Brunel Museum Cafe Exhibition
Pam Miller – Oxalis
February – March 2017
March 18 – April 9 2017
Preview Friday 17 March 6-9.30pm
Talk: 4 pm Sunday 9 April
Performance: 3 pm Sunday 9 April
Saturday 25th March 10:00 – 18:00
Sunday 26th March 10:00 – 17:00
JS Bach – St Matthew Passion with Nonsuch singers JS Bach – St Matthew Passion with Nonsuch singers -Nonsuch singers'
Tuned In London, 2017 February to March programme
Sands Films Studios
Rotherhithe
The Rotherhithe Bridge Talks: Nick Randall from reForm Architects tells WISE16 about the project and the implications for Rotherhithe and Bermondsey
The Port of London Study Group
A mixed group from a range of backgrounds with the aim to exchange information in a friendly and relaxed environment
Canada Water Culture Space
Surrey Quays Road, Rotherhithe, SE16
What's on January-May 2017
A friendly. informal group which enjoy lively discussions about a wide variety of books.
One Thursday of each month between 18:45 to 20:00
Salmon Youth Salmon is a place where you can have massive amounts of fun, feel totally safe and make great
Could you help older people 'feel the wind in their hair'?
Melanie Christou Pilates
Wed 19:00 – 20:00
Docklands Settlement Rotherhithe
Liberal Democrat councillor Caroline Pidgeon talks about the Rotherhithe bridge
Tuned In London, heartfelt music in the heart of Rotherhithe Music is intrinsic to the London arts scene; a visit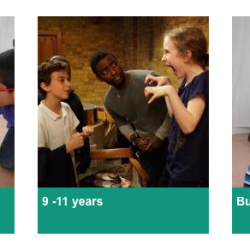 Participatory Groups for children and young people London Bubble theatre run a number of participatory groups in Rotherhithe open to
Read about the Canada Water Masterplan transport walkabouts and drop-in sessions at the beginning of December here