Deal Porters Square Food Market in Rotherhithe
Deal Porters Square Food Market in Rotherhithe
Deal Porters Square Food Market in Rotherhithe
Deal Porters Square Food Market in Rotherhithe is a great place to either grab a coffee and pastry on your way to work or a more leisurely lunch from the delicious street food on offer. The market opens Monday to Sunday from 10 am to 8pm subject to weather conditions. There are a number of regular and occasional traders during the week.
Regular traders
Erbil Sharwama
One of the first traders in the Canada Water Plaza Market, Erbil Sharwama. Döner kebab is a type of Turkish kebab, made of meat cooked on a vertical rotisserie. The Arab Shawarma or Shawurma is a Levantine meat preparation, where lamb, chicken, turkey, beef, veal, buffalo meat, or mixed meats are placed on a spit, and may be grilled for as long as a day. A tasty Mediterranean dish to enjoy by the Canada Water Basin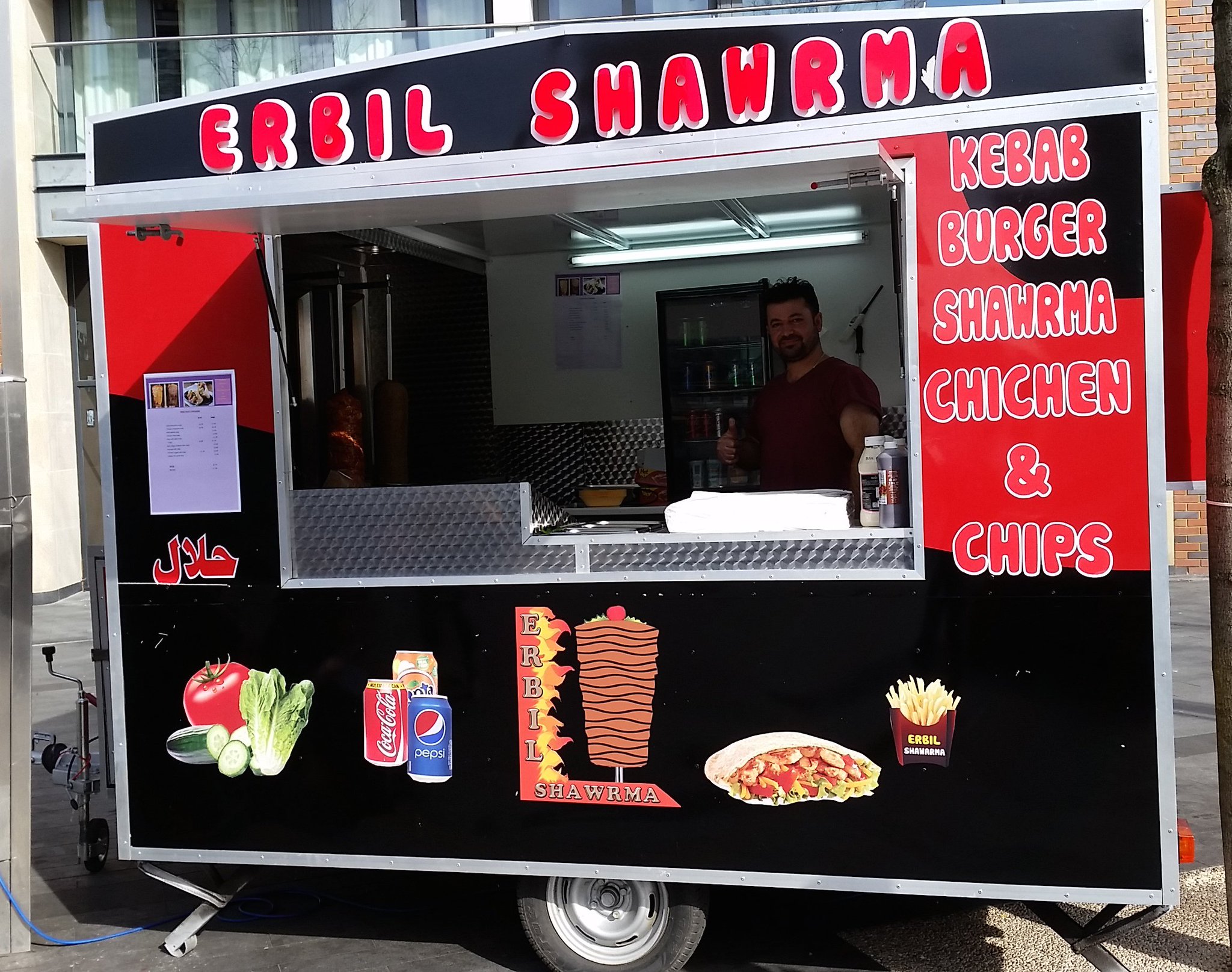 Neco's Creperie
A crêpe or crepe is a type of very thin pancake, usually made from wheat flour or buckwheat flour. The word is of French origin, deriving from the Latin crispa, meaning "curled". Neco's Creperie in the Canada Water Plaza Market offers a wide selection of crepes from savoury treats to indulging lunches.
Neco;'s Creperie in Facebook

Canada Water Fruit and Vegetables
The stall has been selling fresh fruit and vegetables since the opening of the Canada Water Plaza Market. Good prices and a huge selection of healthy food for your 5 a day.
Mouse Tail Coffee
In barista language 'mouse tail' refers to the ideal shape of the stream of espresso. Fine and continuous like a mouse tail = the perfect extraction of espresso, something one can enjoy at this market every day.
www.mousetailcoffee.com @MouseTailCoffee MouseTailCoffee
One Love Cooking
Jamaican Food at its best. Jerk chicken, burgers, wraps and more all done with One Love
Other traders
In addition to the regular stalls, other traders join the market during the regular opening hours.  If you would like to be a part of  Canada Water Plaza Market and take advantage of Southwark Council's new start up package, please contact the market and street trading office.
How to get there
Outside Canada Water Library | 21 Surrey Quays Road  London   SE16 7AR
| Tube / Overground | Train | Bus |
| --- | --- | --- |
| Canada Water, Surrey Quays | South Bermondsey | 1, 47, 188, 199, 225, 381, C10, P12 |
About the Deal Porters Square Market
Deal Porters Square, also known by its former name of Canada Water Plaza by many locals, is a unique space in a historic London docklands location and part of a distinctive, new waterside town centre development. The plaza is at the heart of a new civic development that includes new residential developments and adjacent to state of the Canada Water library with over 40,000 books, learning spaces and meeting rooms.This paved space can be used for a variety of events and activities, and offers peripheral seating and lighting. The space can be used for a multitude of events and performances, or for markets.
The plaza also sits next to Canada Water transport hub where the Jubilee Line meets the new London Overground and the bus station giving direct access audiences in The City, West end, East end and Southeast London.
Canada Water Culture Space and the plaza
Canada Water library offers a modern approach to the library experience. One unique feature to the library is the 150 seat culture space, equipped with professional lighting, sound and projection and run by the Albany Theatre under the name of Canada Water Culture Space. The space lends itself to a range of performance based events, seminars and conferences, and can cater to most medium scale events and productions.
Through two large double doors, the culture space leads on to the Canada Water Deal Porter Square that can be used in conjunction with the culture space, and for a range of outdoor events and performances.
www.canadawaterculturespace.org.uk
Events and performances on the plaza
Whether it's a product launch, community festival, public event or consultation, the plaza is a blank canvas waiting for your imagination to bring it to life.  The plaza offers a multitude of set ups and access to power, water and lighting and can be used in conjunction with the library and the culture space to an indoor element to your event.
For more information on hiring the plaza go to Southwark Council planning an event page
To hire the plaza for an event or a performance contact: