Evening Book Group at Canada Water Library – January to June 2020
Rotherhithe | Community
This is a friendly. informal group which enjoy lively discussions about a wide variety of books. Don't worry if you have not had time to finish the book, you are still more than welcome to come, share your thoughts and impressions and join the discussion. You can see the selected titles for Evening Book Group at Canada Water Library – January to June 2020 below
The book group will meet on the dates below (Second Thursday of the month from 6:45pm to 8pm)
For more details please phone: 020 7525 2515 or email nuala.graham@southwark.gov.uk
You can search the Evening Book Group titles using the online service:
Evening Book Group Selected Titles
The Black Book
Thursday 9th January
How can you prove your innocence when you can't remember the crime? Being a cop runs in Billy Harney's family. The son of Chicago's Chief of Detectives whose twin sister, Patti, also followed in their father's footsteps, there's nothing Billy won't give up for the job, including his life. Left for dead alongside his tempestuous former partner and a hard-charging assistant district attorney out for blood, Billy miraculously survives. But he remembers nothing about the events leading up to the shootout. Charged with double murder and desperate to clear his name, Billy retraces his steps to get to the bottom of what happened. When he discovers the existence of a little black book that everyone who's anyone in Chicago will stop at nothing to get their hands on, Billy suspects it contains the truth that will either set him free – or confirm his worst fears.
Beloved
Thursday 13th February
Terrible, unspeakable things happened to Sethe at Sweet Home, the farm where she lived as a slave for so many years until she escaped to Ohio. Her new life is full of hope but eighteen years later she is still not free. Sethe's new home is not only haunted by the memories of her past but also by the ghost of her baby, who died nameless and whose tombstone is engraved with a single word: Beloved..
The Keeper of Lost Things
Thursday 12th March
Once a celebrated author of short stories now in his twilight years, Anthony Peardew has spent half his life lovingly collecting lost objects, trying to atone for a promise broken many years before. Realising he is running out of time, he leaves his house and all its lost treasures to his assistant Laura, the one person he can trust to fulfil his legacy and reunite the thousands of objects with their rightful owners. But the final wishes of the Keeper of Lost Things have unforeseen repercussions which trigger a most serendipitous series of encounters.
Carrie
Thursday 9th April
Carrie has the gift of telekinesis. To be invited to prom night by Tommy is a dream – the first step to social acceptance. But events take a turn on that night as Carrie is forced to exercise her terrible gift on the town that mocks and loathes her.
Heart of Ice
Thursday 14th May
Heart of Ice is regarded by many as the pinnacle of the genre. The plot, setting, characters, and the prose itself are all a cut above the usual fare, and it is both quick and engaging to read. What makes it really special, though, is that it stands on its own as good science fiction.
20th anniversary special
Join the commemoration of the 20th anniversary of the group since meeting at Rotherhithe Library began in the year 2000 with a special title for the occasion.
Remembered
Thursday 11th June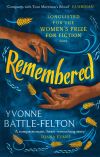 It is 1910 and Philadelphia is burning. The last place Spring wants to be is in the rundown, coloured section of a hospital surrounded by the groans of sick people and the bickering ghost of her dead sister. But as her son Edward lays dying, she has no other choice. There are whispers that Edward drove a streetcar into a shop window. Some people think it was an accident, others claim that it was his fault, the police are certain that he was part of a darker agenda. Is he guilty? Can they find the truth? All Spring knows is that time is running out. She has to tell him the story of how he came to be. With the help of her dead sister, newspaper clippings and reconstructed memories, she must find a way to get through to him. To shatter the silences that her governed her life, she will do everything she can to lead him home.
ARCC Russian Film Studies Screenings 2020 at Sands Films Studios, a series of Russian-speaking films rarely or never seen in the UK.
Indonesian Weekend
Saturday 22nd July-Sunday 23rd July
Potters Fields Park
Free
Saturday 22nd September 2018
Shine London is Cancer Research UK's marathon night walk, bringing people from across the UK together to light up London and fund life-saving research.